Thursday, April 21
Crap publicity photo of the week: Election special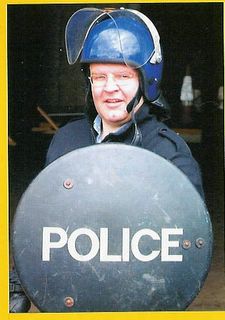 This week it's the turn of my MP Tom 'Watso' Watson to take centre stage.
Here's a picture from his election leaflet that fell through mine and
Paul
's doors this week.
Watso, in an obvious attempt to trump Michael 'Howardo' Howard in the law and order stakes, has dressed up as a riot policeman in a costume obviously hired from a local fancy dress shop....
So it's the usual format, caption suggestions in the comment box.
My suggestions are:
- Tom prepares for a night out in West Bromwich.
Or
- He is saying "Tony, I know you promised to put more bobbies on the beat, but this is ridiculous!"